Did you see the new designer crochet tool I posted? Visit it, hit "start styling" and put together outfits using pieces from previous Designer Crochet posts to create a display for the gallery.
Okay, next up on the list of designers in The Designer Crochet Project is Versace. Gianni Versace is one of the designers from Simone Werle's 50 Fashion Designers You Should Know that I actually know a lot about. However, I don't actually know if there's any crochet in the Versace line. Let's take a look …
About Fashion Designer Gianni Versace
Gianni Versace was a fashion designer who embraced over-the-top supersexy designs. His designs are glamorously extravagant. He opened his first boutique in Italy in 1978. He won the American Fashion Oscar in 1993. In 1997 Versace was murdered and the line was passed on to his his sister Donatella, his brother and his niece. Today there are an array of lines under the Versace name include Versace Couture and Versace Jeans and Versus.
Versace Crochet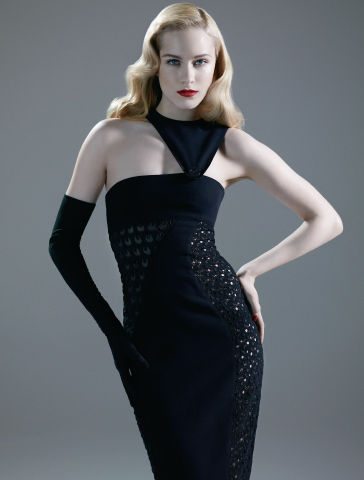 Evan Rachel Wood in $2700 Versace Silk Crochet Gown, via LA Times
Vintage Versace Crochet, sold on Etsy by StatedStyle
All sources seem to say that this Versace dress is crochet cotton with silk … it doesn't look crochet to me, though. What do you think? (via coolspotters)
Crochet Worn With Versace
Versace Denim Jacket with Zara Crochet Dress, via lookbook.nu
Crochet cardigan with Leggings by Versace for H&M, via MaryLouCinnamon
Crochet Inspired by Versace
Mua Mua Donatella Versace Doll, via Polyvore
Fabulous Versace I'd Love Reinvented in Crochet
Versace Halter via ShopCurious; I think the openwork design makes it really suitable to re-working the design in crochet
Versace Chiffon Gown via RareVintage; the detail on the back looks like it could be reinvented in basketweave stitch
Which of the designers I've written about so far for this project has been your favorite?