I don't usually watch The Oscars. I'm not really big on awards shows of any kind. There's nothing wrong with them, just not my thing. And I've almost never seen more than one or two of the movies that are up for awards anyway. But this year I'm going to Dinner-and-The-Movies at a friend's place so I'll be catching the show. I confess, I'm mostly watching the stars to see if anyone is wearing celebrity crochet!
With that in mind, I thought I'd get myself (and maybe you) in the Oscars mood by putting together a roundup of all of the nominees for Best Picture and sharing some crochet items from around the web that relate to each of those movies in some way.
The Artist
The Artist is set in 1927 so I think the best way to find crochet inspired by this movie is to go into the archives of the web and find the vintage crochet items actually made in 1927.
Knit / Crochet Beaded Purses from: Hiawatha Book of Beaded Bags — 1927 Vintage Beading Patterns
Crochet Hat from 1920's Patterns on CD
And then I also looked at some modern vintage-inspired 1920's crochet inspired by the fashion of the era like this straw crochet cloche with veil from Teacup Milliner.
The Descendants
This movie is set in Hawaii and many of the scenes in the trailer are around the pool so here's what I choose for crochet inspiration:
Crochet Swimsuit by Legin Knits
Crochet at the Pool by Kookiez
Hula Hula Lula Crochet Pattern
Extremely Loud & Incredibly Close
This one is set in modern NYC so the first thing that comes to mind is obviously crochet artist Olek: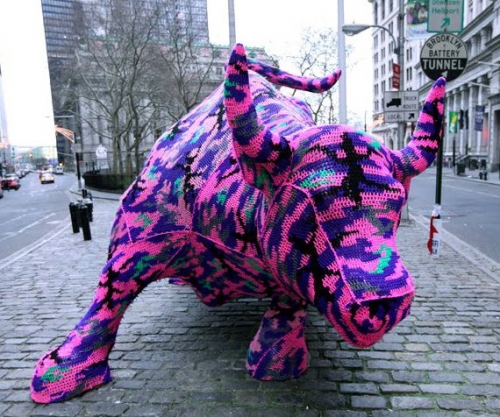 But it's also about the Twin Towers:
NY Twin Towers Tunisian Crochet Afghan Via Craftster
And it's mostly about a boy:
Crochet Hat Made to Order by Etsy's KerensHatBoxBoutique
The Help
The Help (which is one of the 2 movies on this list that I did see) is set in the 1960's which is another great era for crochet.
Crochet Pattern for Sale at Cemetarian
Vintage Crochet Apron (Via KeepOrPitch)
Hugo
The little boy in this movie's trailers always seems to be in a striped sweater:
From Etsy's ThePineNeedleValley
His dad is a clockmaker so I thought of the work by crocheTime:
And he's looking for a heart-shaped key:
Via FoothillFibersNPhoto on Artfire
Midnight in Paris
Americans in Paris get transported back to the 1920's. It's filled with art, surrealism, literature and romance.
Loveve's Midnight in Paris Crochet and Swarovski Choker Necklace
Starry Night Crochet Cardigan from @lindamade
Vintage Cloche Hat with Romantic French Flair Via Jen's Fabulous Finds
Moneyball
This is the other movie on the list that I've seen. It's all about baseball:
Crochet Baseball Beer Cozy by Alicia Kashmar
Specifically it's about the Oakland A's whose colors are gold and green:
Crochet Scarf by Etsy's HandmadesByAlice
The Tree of Life
This film is set in 1950's Texas but it's got a strong emphasis on nature and of course we have to include a crochet tree here.
Crochet tree by Klas Ernflo via The Knitted Jungle Collective
Crochet sheath with deep cowl collar. Via Cemetarian.
1950's crochet collar via Ruby Lane
War Horse
Finally we've got World War I era Britain and inspiring horses.
Crochet Horse Hats. Via Craft
What picture do you hope wins the Oscars? Which one do you think is represented best by crochet?