Patricia Waller, Twinkie Chan, Urban Outfitters and Missoni crochet
This post shows what was happening on this crochet blog during this same week in 2011 … and includes related updates where I can. You can follow the links to the original posts and additional information.
Crochet Art
The crochet artist I profiled at this time last year was Patricia Waller. I was (and still am) fascinated by how she can take super cute things (like Bambi) and put a really dark twist on them (like Who Killed Bambi? shown above) all using her crochet skills. In September I wrote about the Knot After Knot online art exhibit that Patricia Waller was a part of. She also had 2011 exhibits in Poland and Germany. I recently mentioned her because of some similarities she has to another crochet artist I profiled: Andy Aguilar of The Dope Fiends.
In other crochet art news, I had mentioned the Build It With Yarn contest that was about to start, a collaborative project by @lionbrandyarn and Instructables. I never did remember to come back and mention that the winner was indeed a crochet art work showing How to Build the Roman Aqueduct in Spain with Yarn:
Crochet Books
First off, I won a crochet book from a @CraftGossip giveaway. Which one? Twinkie Chan's Crochet Goodies for Fashion Foodies: 20 Yummy Treats to Wear
. I used the book a lot, did a crochet book review and then offered my copy for giveaway at the end of the year. @twinkiechan continues doing cool stuff that I follow on her blog.
The book I actually reviewed this week last year was Crochet in No Time by Melody Griffiths. One project I really liked here was the granny square fingerless gloves and I've seen versions of those many times since online. She continues to have designs published on Ravelry and in various books. The most recent book I know of is a 2011 knitting encyclopedia that she did in collaboration with Lesley Stanfield.
Crochet News
The big news of the week was about eco-friendly fair trade crochet aluminum tab accessories from Escama Studio.
Escama Studio artisans continue to produce cool new green products using innovative techniques and incorporating crochet. One that I really love right now is their spiral bag: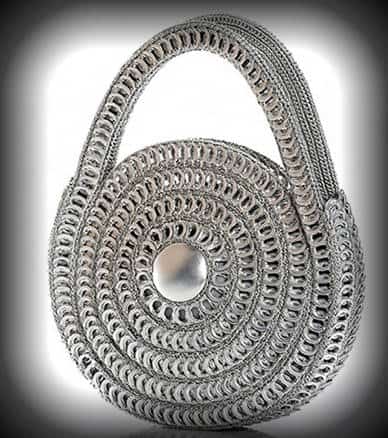 I have since written about quite a few other fair trade crochet projects that offer crochet work to people in other countries. Examples include AHA Bolivia, CordoBags, Same Sky and Jishike Social Couture.
Other interesting news stories from this week last year included:
Crochet Fashion
Urban Outfitters was featuring a lot of crochet at this time last year. They continued to do so. Take a look at some of their current crochet items I like:
Of course, we've since talked a lot on this blog about the many problems (and some benefits) of chain store crochet.
Another brand I talked about was Missoni. Many crocheters weren't too familiar with this designer crochet and knitwear brand. That changed later in the year when Missoni did a collection for Target that was so popular it immediately shut down the Target website from traffic overload.
Crochet on Etsy
The Etsy crochet features that I chose for this site during this week of last year were:
Here's something new from those shops now:
Felted Gege Bag Crochet Pattern by Pomquat
Red and White Crochet Apron from ThreeVintageLadies
Sewing Machine Crochet Pattern by Skymagenta
Crocheted Heart Coaster by Gramsheart
AnniesWearableArt appears to have closed down :(
Crochet Quotes:
The crochet quotes that were featured on this site during this same week last year were:
"What more do you need besides a crochet project and some hot cocoa?" – ChompCake

"In my career, designs have come from all different types of inspiration. Sometimes I fall in love with a stitch pattern, sometimes with the yarn, and sometimes I see something I really want to replicate." – @traciecrochets

"Vintage clothing is different. Wearing vintage is like wearing an haute couture original, as nobody else will have the same thing. What's more, you usually get a quality that is rarely found these days, which means luxurious fabrics, hand finishing, unusual buttons, hand embroidery, handmade lace, crochet, appliqué and beading." – Lisa de Silva

"A good crochet design is not a garment that uses cheap, stiff acrylic yarn that makes your design stand up on it's on or one that feels like a straight jacket when worn!" – Mary Jane Hall

And there was a nice long quote from Vickie Howell.
Crocheters on Twitter
At this time last year I recommended following ten crocheters on Twitter. Let's check in on them:
@RebecaVelasquez. Still active on Twitter. Check out her website of crochet designs.
@crochetnmore. Frequently links to free crochet patterns.
@nothingbutstring. This one isn't on Twitter anymore.
@AnnettePetavy. Fairly active on Twitter but I stay particularly up to date through her crochet blog.
@stormyzcrochet. I haven't been following this amigurumi maker as much on Twitter but do know she is active on her Etsy store.
@SherylMeans. Doesn't seem to be on Twitter anymore but you can find her designs on Ravelry.
@irenestrange. UK designer of cute crochet critters.
@MollyMade. She's been kind of quiet lately on both Twitter and her blogger.
@crochetkitten. Active Tweep self describing as: "I'm a feral-turned-domestic housecat in love with crocheting. Voulez-vous crochet avec moi?"
@Mountainside23. Etsy crafter moderately active on Twitter. Her designs on Etsy are super cute.
Here's What I was Up to A Year Ago:
I went to a local women's networking group filled with ladies who support my crochet so I shared that story.
I shared my four simple crochet joys of the week.
I was obsessing over bobble crochet.
And I made my first crochet capelet:
What were you doing one year ago in crochet or on your blog?