Somehow another month has gone by. Here are some of the sightings of crochet clothing worn by celebrities and shown off on the runways in February.
Celebrity Crochet
Natalie Portman in Multicolor Bohemian Crochet Cardigan. Via MyDaily.
Marysol Patton in Hot Pink Crochet Swimsuit. Via Daily Mail.
Vanessa Hudgens is crochet-inspired here with a lacy top beneath a knit cardi. Via Teen Daily.
Eliza Doolittle in floor-length crochet gown. Via Daily Mail.
Kelly Brook in swimsuit with crochet detail. Via The Sun.
Lucy Mecklenburgh wears a swimsuit coverup with crochet fringe. Via Daily Mail.
Designer Crochet
Crochet Details from Rodarte's Fall 2012 Show. Via New York Fashion.
Rag and Bone sent some beautiful crochet down the runway for New York Fashion Week including this sweater dress that hints at granny ripples. Via LA Times Blog.
Rachel Roy Fall 2012 featured tons of crochet and knit in creative ways. Via Fashionista.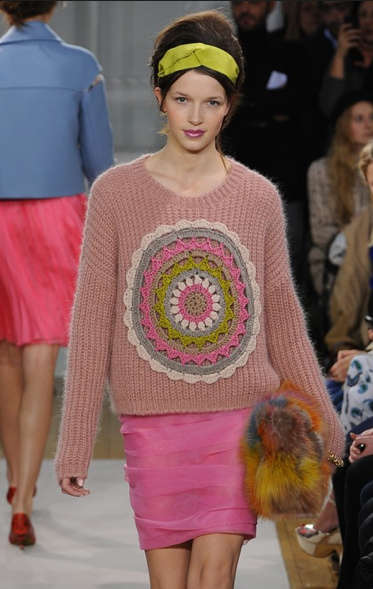 Moschino RTW Fall 2012. Via WWD.
Mark Fast sent what appears to be beaded crochet down the runway at London Fashion Week. Via Tiskin Celebrity Blog.
Beautiful Thread Crochet Dress from TBA Spring/ Summer 2012. Via Become Gorgeous.
A bit of knit and crochet made its way into the Valentino spring/summer collection. Via Become Gorgeous.
Sometimes I do get it wrong. If you see something here that you think isn't really crochet, feel free to leave a comment!