Olek, Vickie Howell, Coral Reef and Dolce and Gabbana all in crochet
I just realized that I have been blogging here at Crochet Concupiscence for a year now. I knew that the one year birthday of the blog was coming up and had planned to do something special but then it kind of slipped by quietly (on January 15th). That's okay … in quiet honor of the blog's special day I'm launching a new weekend featured showing what was happening on the blog this week one year ago.
Crochet Art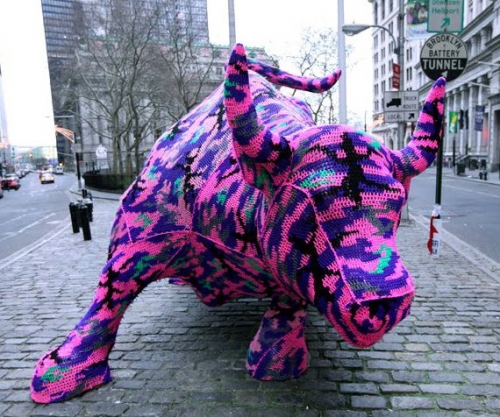 The very first crochet artist that I profiled on this blog was Olek. I've since written about her terrific work numerous times. She's still going strong, having just opened a brand new exhibit in London.
Crochet Books
The very first crochet book that I reviewed here on this blog was Vickie Howell's terrific Pop! Goes Crochet. This book shows crochet inspired by pop culture. I've since seen lots of great crochet in this area including designer crochet and crochet on celebrities. I've also continued following Vickie Howell as she has blogged, shared crochet and knit patterns and launched her new yarn line Sheep(ish).
Crochet News
A hyperbolic crochet reef was on display at this time last year in Salisbury, UK. This was when I started learning about the cool coral reef crochet project that has spread all the way around the world thanks to the hard work of The Wertheim Sisters. During this same week last year I also wrote about a cool hyperbolic crochet cactus garden.
Another news bit that happened at this time last year was that there was some concern that crocheters may be affected by the rising cost of yarn. This is still an issue of concern today; just last month KnitPicks explained why some of their yarn prices are going up.
Finally I wrote my first post about women crocheting for a cause. It was about a group of five elderly women who crochet together to donate to a variety of different causes.
Crochet Fashion
I did my first designer crochet feature on this site during that first week of the blog's launch. It was to let people know about the Dolce and Gabbana crochet purse that sells for more than $1300.
Crochet on Etsy
The Etsy crochet features that I chose for this site during this week of last year were:
Here's something new from those shops now:
Cloche Hat Crochet Pattern by DaisyEzyCraft
StitchHappens7 is now closed
Selawik Cowl Button Wrap in Pumpkin by Ozetta
Purple Skullcap with Flower by CrochetDiva66
Crochet Quotes:
The crochet quotes that were featured on this site during this same week last year were:
"A loop after a loop. Hour after hour my madness becomes crochet. Life and art are inseparable." –Olek

"Knitting and crocheting is like therapy for a lot of people." – Janna Milbradt

"The best part about it is it's me actually believing in myself and seeing my talent as something useful that makes people happy. It's not just making money, you know?" –M.L. Kinnel

"Tea-stained laces, Victorian accents, ruffles and textured fabrics like Swiss dot and crochet reinforce this sense of vintage femininity." –Marla Shavin

"I felt overwhelmed by the masses of circular creations that seemed to represent womankind's challenge to answer the riddle of pi in neverending cotton lace." –Sigrid Arnott
Here's What I was Crocheting:
Red Crochet Blanket with Grey Flowers