Have you been following along on with the 31 Days of Crochet Giveaways! So far I've given away a pair of crochet wine cozies, a great crochet pattern by Anastacia Knits and 6 balls of Lion Brand Fun yarn. Now it's Day 4 and I'm offering up a de-stash copy of Nick and Kathleen Greco's book of crochet and knit projects for Jelly Yarn.
About the Prize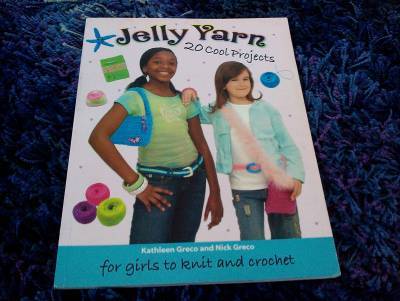 This is a pattern book with twenty different projects showing you how to use Jelly Yarn. If you're not familiar with it, Jelly Yarn is a type of plastic "yarn" that is used in crafting. I wish I had some on hand to throw into the giveaway but I don't so unfortunately it's just the book. It is, however, a good crochet book.
It's subtitled "20 cool projects for girls to knit and crochet" and indeed it does have an emphasis on items for tween girls. However, I think it can be used by anyone since it has crochet patterns for such versatile items as a water bottle holder, an amigurumi starfish and a flying Frisbee-style item.
Although the patterns are designed for Jelly Yarn, many of them can easily be made using other types of yarn including regular yarn, homemade plarn and novelty yarns. I think you could have some fun with this and hope that the winner will think so too!
One note, the book is a used book. It's in very good condition but does have a little bit of wear on the cover. Just mentioning it for those people who might enter to win this to give as a gift. It makes a good gift but it's not brand brand new.
How to Enter


Details
This giveaway is only open until midnight EST tonight. The winner will be announced tomorrow on Twitter and Google Plus as well as in a roundup post of winners on Sunday. Items will be shipped by December 9th.