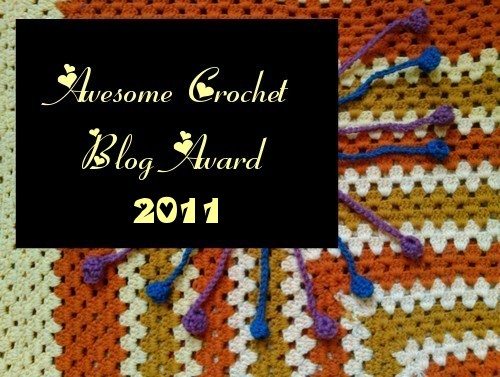 Each day in December is a day of celebration here at Crochet Concupiscence. I'm honoring some of my favorite crochet bloggers with special awards that recognize the most unique and wonderful things about their blogs. Learn more about this project here.
Congratulations to today's award recipient:
You have received this award for:
Best Sharing of Own Crochet Work
A lot of crochet bloggers do a wonderful job sharing their own crochet work and I don't want to diminish the quality of anyone else's work by giving out this award. Nevertheless, I have to say that I'm always interested in the short-and-sweet posts on Yarn Dharma that show Keri's progress on various projects including her Daily Squares crochet project. We can truly see her progress on her blog and she develops her crochet and I love that! Great blog Keri!
Winners are welcome to snag the above image to share on their blog with a link back to this post. Alternatively, they can grab the sidebar button using the code beneath the button in the sidebar to the right of this post.