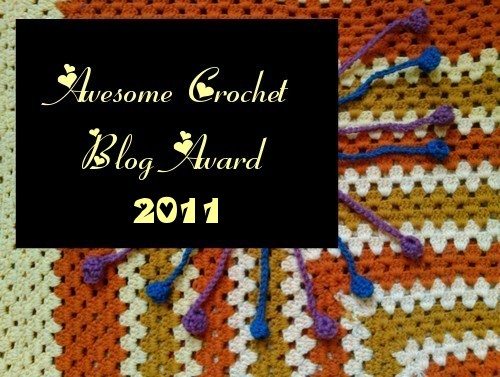 Every day of this month I've offered an award to a crochet blogger. It is my way of wrapping up the year and giving back to the wonderful crochet blogging community that I am so happy to be a part of. Learn more about this project here.
Congratulations to today's award recipient:
You have received this award for:
Best Posts from a Yarn Blog
All throughout the month I've honored various crochet blogs and there are lots more that I could honor but I wanted to wind up these awards with a shoutout to the yarn blogs. After all, where would we crocheters be without terrific yarn? I follow a lot of yarn blogs including the blogs of big brands and the blogs of indie dyers. What can I say; I love yarn. Of all of the yarn blogs that I follow, one blog stands out for a particular weekly feature that I never fail to love. Malabrigo does a Weekly Color Feature in which they select a stunning colorful photo (could be of anything) and then show a selection of Malabrigo yarns that match the color story of the photo. It's a wordless post that is always super beautiful. And I've never met a Malabrigo I didn't like so I always want the yarn. Great work guys!
And great work to all of you other crochet and yarn bloggers out there. Even if you didn't get an award this month, I am so glad that you are contributing your voice to our online community. Happy New Year!
Winners are welcome to snag the above image to share on their blog with a link back to this post. Alternatively, they can grab the sidebar button using the code beneath the button in the sidebar to the right of this post.