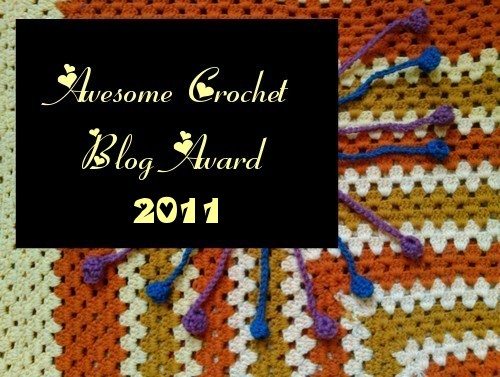 Each day in December is a day of celebration here at Crochet Concupiscence. I'm honoring some of my favorite crochet bloggers with special awards that recognize the most unique and wonderful things about their blogs. Learn more about this project here.
Congratulations to today's award recipient:
You have received this award for:
Best Crochet Videos
People who know me might be surprised that I decided to include an award for best crochet videos. That's because I tend to be a much more word-based learner than visual learner so I almost never watch crochet videos for instruction. That said, I know a lot of people who rely on YouTube videos to learn anything new in crochet and every once in awhile when I'm not able to make sense out of something, I'll head there as well. What always comes to mind for myself or recommendations to others is "maybe CrochetGeek has a video". Teresa has really done a great job of carving out a niche for herself as someone who provides crochet tutorials, tips and instruction via video through her YouTube channel. Great work Teresa!
Winners are welcome to snag the above image to share on their blog with a link back to this post. Alternatively, they can grab the sidebar button using the code beneath the button in the sidebar to the right of this post.