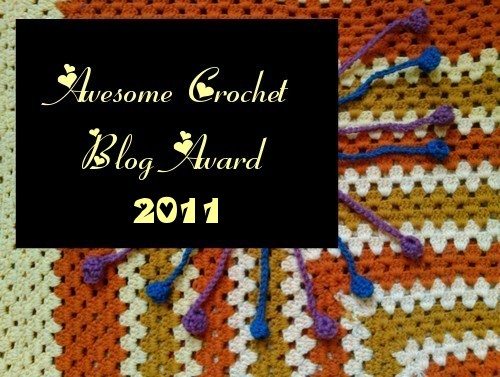 Each day in December is a day of celebration here at Crochet Concupiscence. I'm honoring some of my favorite crochet bloggers with special awards that recognize the most unique and wonderful things about their blogs. Learn more about this project here.
Congratulations to today's award recipient:
You have received this award for:
Best Crochet Tips
This is a great crochet blog that I had on my short list for several different categories. I almost chose it for best crochet news source (which ended up going to Craft Gossip) because the regular crochet buzz section always keeps me up to date on the latest in crochet news. And I also had it on the list for most shareable content (which went to Poetry in Yarn) because I frequently share Stacey's posts in my link love. And if I'd done an amigurumi category, she would've been there. But ultimately the number one thing that I think Stacey does post is provide us all with really useful and smart tips in her regularly featured "tips and techniques" posts. Love your blog Stacey!
Winners are welcome to snag the above image to share on their blog with a link back to this post. Alternatively, they can grab the sidebar button using the code beneath the button in the sidebar to the right of this post.