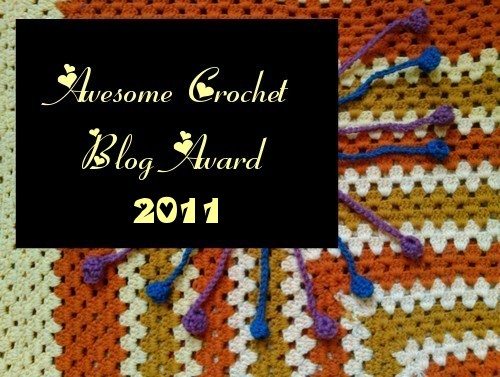 In the spirit of the holidays, I'm giving away an award a day in December. Each award goes to an awesome crochet blogger for a specific thing I love about her blog. Learn more about this project here.
Congratulations to today's award recipient:
You have received this award for:
Best Crochet Colorwork
This category was the single toughest category to narrow down. I use a lot of single-color and two-color approaches to my own crochet so I am always in awe of people who change colors every few rows and use lots of colorful motifs. And there are a lot of great bloggers out there who do this. Crochet with Raymond (who previously received the award for best tutorials) was a runner-up in this category as was Debi Y. (who got the best ripple work award). Attic 24, Bunny Mummy and Gingerbread Girl are other blogs that immediately come to mind when I think of color. Ultimately, though, I decided that the number one colorworker in crochet is Le Monde de Sucrette. She uses a vast array of colors in pretty much every projects. She does colorful stripes, granny squares, flowers and more. She hosted the large granny square challenge earlier this year, which encouraged a lot of other people to do more with color. And she has shared some of her painting which is also filled with color and totally reminds me of her crochet work. Great work Angie; I love your blog!
Winners are welcome to snag the above image to share on their blog with a link back to this post. Alternatively, they can grab the sidebar button using the code beneath the button in the sidebar to the right of this post.