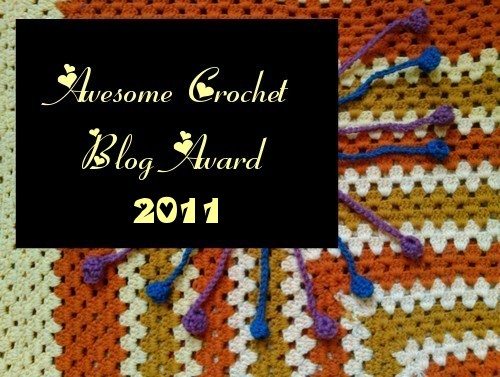 In December, I'm honoring some of my favorite crochet bloggers with special awards that recognize the most unique and wonderful things about their blogs. That's how we celebrate the holidays here at Crochet Concupiscence! Learn more about this project here.
Congratulations to today's award recipient:
You have received this award for:
Best CAL
There are a lot of great crochet-alongs that happen throughout the year, launched from various sources. They give people a chance to work together on crochet and strengthen the crochet community. I chose Maybe Matilda as the blog with the best 2011 CAL for a few reasons. First of all, I actually participated in this one so I had some firsthand knowledge. Second, it used a really simple crochet pattern and was a short-term project, making it really easy for a lot of different people to participate and a lot of different people sure did! And finally, all participants got a free crochet pattern of their choosing from Maybe Matilda and there was a winner chosen by votes for best end product. It was awesome. Great work Rachel!
Winners are welcome to snag the above image to share on their blog with a link back to this post. Alternatively, they can grab the sidebar button using the code beneath the button in the sidebar to the right of this post.