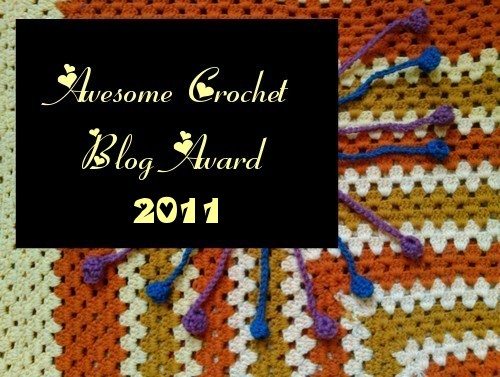 Happy Holidays! I'm giving the gift of blog awards here this month with a daily award going to a crochet blogger who did some special thing spectacularly well in 2011. Learn more about this project here.
Congratulations to today's award recipient:
You have received this award for:
Best Crochet Book Blog Tour
When a crochet book is released, it usually goes on a blog tour which means that a series of blogs take their turns reviewing and sharing info about the book. Blog tours are one of the ways that I determine whether or not a crochet book will likely interest me. I followed the blog tours for many books this year (and was a stop on some as well) but the challenge for today's award was to find a book that went on a great blog tour and was also associated with a truly good crochet blog. Robyn wins. Her Crochet Stitches VISUAL Encyclopedia
went on quite a long blog tour with stops on lots of other great blogs and she blogged about those stops on her own blog. On this blog she also shares crochet patterns, provides info on crochet design and talks about the crochet classes that she teaches. Love your blog Robyn!
Winners are welcome to snag the above image to share on their blog with a link back to this post. Alternatively, they can grab the sidebar button using the code beneath the button in the sidebar to the right of this post.