Everyone who crochets seems to be making something at this time of year, whether it's crochet snowflakes to decorate the home or crochet clothing to give as gifts. But what I've been specifically eyeing are the terrific crochet Christmas trees that people are making, from mini to full size. Here are ten of them to get you in the holiday spirit.
1. 4′ Tall White Crochet Christmas Tree

This stunning 4′ tall lit-up crochet Christmas tree comes from By Hooks 4 U.
2. Crazy Colored Crochet Christmas Tree
I discovered this crazy crochet Christmas tree in my research for a guest post on Extreme Crochet Christmas at The Steady Hand.
3. Crochet Christmas Tree Patterns
My favorite crochet patterns for Christmas trees are the ones available for purchase from Planet June.
4. Crochet Christmas Tree Video Tutorial
I also like this crochet pattern shown in video tutorial form by Crochet Geek
5. 1980's Crochet Xmas Tree Patterns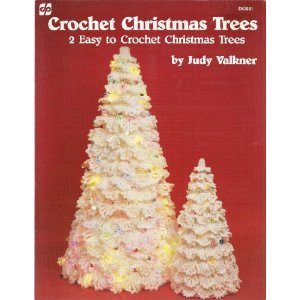 An Amazon
find that appeals with its cover Christmas tree
6. Christmas Tree Bottle Cover
This fun Xmas crochet creation comes from a forum post.
7. Handmade Small Christmas Tree
DanielasNeedleArt created a crochet Xmas tree pattern and received this first photo from a customer who used it.
8. Red, White and Green Crochet Christmas Tree
Crochet by the Sea shares her approach to the crochet Christmas tree.
9. Lighted Mini Crochet Christmas Tree
This lighted crochet Christmas tree is sold on Etsy by GamaLina.
10. Tabletop Crochet Christmas Trees
These terrific crochet Christmas trees are sold on Etsy by LittleOwlsHut.
Have you ever crocheted a Christmas tree?