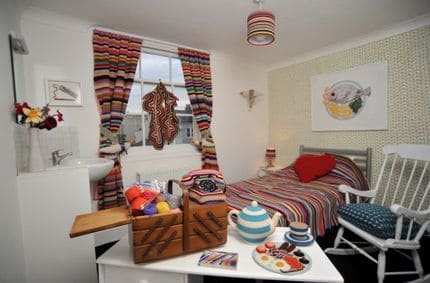 I've never had any particular desire to travel to the UK. Not that I don't want to but there are a long list of places that I want to visit first (Costa Rica, Rio de Janeiro, Reykjavik, several Mediterranean beach areas …) so the UK has never really been on my travel radar. Until now. I have to admit that there's a part of me that wants to take a trip to Brighton just for the chance to stay in Hotel Pelirocco, a "rock and roll boutique hotel" that now has a room that's decorated entirely in knit and crochet.
Hotel Pelirocco
Hotel Pelirocco is a boutique hotel located on Brighton Beach in England. I'm a huge fan of boutique hotels. Yes, they are sometimes expensive and sometimes over-designed but they are often the most unique hotel in terms of not only decor but also personal service. I enjoyed a boutique hotel in San Diego with a nightly wine hour. And I loved the boutique hotel I stayed in when I went to Buenos Aires last year. So that immediately, catches my attention and makes me interested in learning more about a hotel. This one catches my attention, too, because it's dubbed the "most rock 'n roll hotel". I like the rock 'n roll vibe. (Unrelated, but speaking of which, I'm a fan of San Francisco "rock 'n roll craft bar" Princess Animal).
The rooms at this hotel are "inspired by pop culture, sexy sirens and maverick musicians". There is a burlesque playroom suite and a room styled after Dolly Parton's Southern Country ambience so there are a lot of different options here and they all look fun. There are sing-off battles and other fun things at the hotel and it's accompanying bar. So yes, it looks like a fun hotel. But here's why I'm mentioning it on Crochet Concupiscence …
The Knit and Crochet Room
The newest room at Hotel Pelirocco is decked out entirely in yarn, featuring both crochet and knit items throughout every aspect of the room. It some ways it looks like it's been yarnbombed. And in other ways, it looks like someone with an obsession for cozies and amigurumi has been locked away here for a little bit too long. But it's unique and different and I kind of love it!
This room was created by designer Kate Jenkins (@knittedart on Twitter)and the two assistants who helped her realize her vision. It is called the Do Knit Disturb room. Some of the pieces I especially love are the blanket, made up of stripes in 100 different colors, and the retro phone decked out in a crochet cover. It costs £55 per weekday night to stay here, which I think would be worth it if I ever designed to visit Brighton.
Would you want to stay in the knit and crochet room at Hotel Pelirocco?