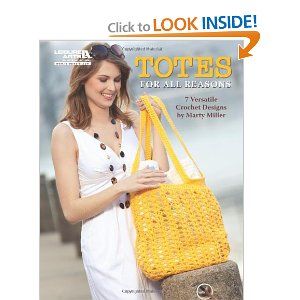 Today's crochet book review isn't of a book per se but it's of a great Leisure Arts pamphlet of 7 crochet tote designs. It's Marty Miller's Totes for All Reasons
and its true that if you make all seven designs in the booklet, you'll have a tote for everything you need one for.
Who this crochet book is for
This crochet booklet is designed for anyone who is specifically interested in crocheting tote bags. The designs are fairly simple so it's fine for a fairly new crocheter although bear in mind that it's not a crochet lesson book, just a small booklet of patterns, so you won't learn to crochet from it. There are some designs that incorporate fun stitches and advanced finishing techniques, like adding a wooden handle, so the more advanced crocheter won't get bored.
Format of this crochet book
This crochet booklet starts with a short intro by author Marty Miller and some information about who she is. Then it launches into the patterns. Each pattern contains:
Name of the tote. The names are designed to give you insight into the stitches, like the puff stitch tote.
Two photos of the finished crochet tote, in two different colors to give you a sense of some variation available to you as you make your own.
A 1-4 skill level rating to guide you in choosing a crochet tote pattern that you'll be able to complete.
Finished size of the tote.
Yarn used, including the fiber type and weight as well as the amount used for each of the two different finished totes shown.
Crochet hook size and gauge swatch information.
Guide to non-basic stitches (such as the puff stitch).
Easy-to-follow row-by-row instructions separated out by section of the tote (like the body then the handles).
One pattern has a motif placement diagram.
Some patterns include finishing instructions including felting info for one of the patterns.
After the patterns we get some basic helpful information to wrap up the book. There are charts for crochet abbreviations, hook size conversions and yarn weights. There is information on particular techniques like "adding on single crochets". And there is a page of information about the specific brands of yarn used in the products shown in the book.
My favorite design in the book
I don't want to go showing off all of the designs in this book because you should buy the book to see them all. That said, I'll tell you which is my favorite of the seven crochet tote designs. It's the one-skein tote, which I like because it's skinnier and therefore not a tote shape that I've typically seen.
Other notes
This little booklet really packs a wallop in its few pages, sharing lots of different stitch types. I love that we get different color ideas for each tote so that in a way we're getting fourteen different bags instead of seven. I think crochet totes are great and would make a nice easy-to-create gift for people in your life and as the title tells us, there's a tote for everything in here!
Conclusion: This is a great little pamphlet of designs to add to your collection if you like making totes. It's also a great little gift for a crocheter!