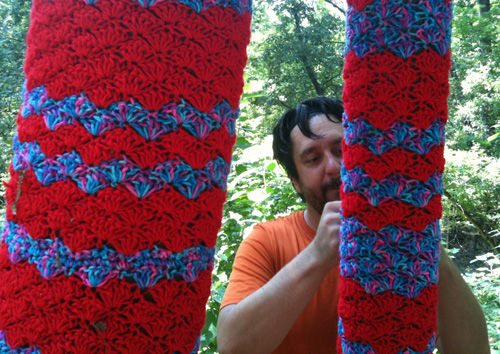 A public green space in Atlanta put out a call for art submissions and one of the projects approved was by a group who wanted to yarnbomb some trees in the area. I love the way that they've stretched themselves with some cool crochet designs and great colorwork.
The Atlanta BeltLine Art Proposal
The Atlanta BeltLine is a project in Atlanta to create a public green space that encompasses and presumably preserves nearly two dozen historic railway lines in the city. When complete, it will have a twenty-two mile long pedestrian loop that takes you through nearly four dozen Atlanta neighborhoods. And of course, you need things to see along the way, so there are various public art projects in this space.
The BeltLine Knitterati
One of the groups that submit a proposal (and got accepted) to have their artwork shown off in this public green space was a group that has come to call themselves The BeltLine Knitterati. This group of eight is made up of an equal number of knitters and crocheters. Together they worked to create colorful handcrafted yarn cozies for the trees in a specific portion of The Atlanta BeltLine. The cozies and sleeves are primarily placed on standing trees but there are some on fallen trees and some on signposts as well. The result is a colorful display of stitching. And what I love is that there is some really lovely stitchwork here that you can tell some time went into. You can see lots of photos at the original story source linked to at the bottom of this post.
Is This Yarnbombing?
Yarnbombing is kind of tough to define these days. Yarnbombing purists say that yarnbombing has to be something that is done without permission, in the style of graffiti art, and that this type of project is a public art display but it isn't yarnbombing per se. Others refer to yarnbombing as more of this style of art – knit and crochet cozies on trees and racks in public spaces. What do you think – is this yarnbombing?
Original news source: Sweet Peach Blog via Curbed Atlanta