I was talking to my mom the other day and she was telling me that a friend of hers was telling her about e-book readers because he knows a woman in her eighties who has been using a Kindle. I think it's awesome when older people adopt new technology like that. So in honor of that little story, I thought I'd share some "crochet for Kindle" stuff – some crochet books available on Kindle as well as some Kindle crochet cozies.
Crochet Books for Kindle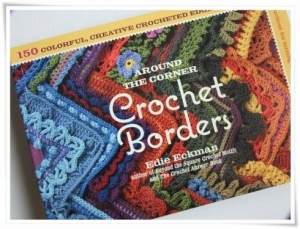 I just reviewed a hard copy of a book that a lot of people said they enjoy and it turns out it's available on the Kindle. It's Edie Eckman's Around the Corner Crochet Borders: 150 Colorful, Creative Crocheted Edgings with Charts and Instructions for Turning the Corner Perfectly Every Time
.
Here's a book by an anonymous author that I've never seen before but would be curious to check out! It's called Handbook of Wool Knitting and Crochet
.
I was surprised to learn that there are several vintage crochet patterns and collections of such patterns available for download on the Kindle, like this one: Vintage 1940's Crochet Patterns – Doilies, Shrugs, Afghans, Purses, 30 Vintage Crochet Patterns
Kindle Crochet Cozies
If you have a Kindle then you'll want to keep it safe and what better way to do that than with a crochet cozy. You can buy one from various places, like Etsy, or you can make one yourself. Here are a few:
I found this one via CraftGossip. There's a link there to the tutorial for making it.
The pattern for this one is sold for $2 by rivkee on Etsy.
Or just buy a crocheted Kindle cozy already made on Etsy, like this one from bettyrama/
Do you have a Kindle?