I'm plowing through my list of 25 lists to inspire crocheters. One of the ways that I get inspiration is to look at people's crochet items online and of course, Etsy is a great site for that.
Here are 25 Etsy stores that you can visit to check out inspiring crochet:
1. crocheTime. I love the crochet clocks that this Etsy seller makes! See my interview with crochetTime.
I do daily posts featuring crochet items on Etsy so you can look there for even more links to Etsy crochet.
2. TrendyKnitting. I love the shawls, shrugs and scarves in this Etsy shop. See my interview with TrendyKnitting.
3. nerdJERK. This store has tons of great nerdy craft stuff but my favorite are the video game crochet toys. See my interview with nerdJERK.
4. BobiCreations. This store sells hats, clothing and home decor. What I love are the great bold colors in the items! See my interview with BobiCreations.
5. Lilena. This store sells crocheted home decor items and gift items as well as some vintage crafts. See my interview with Nita of Lilena.
6. Onajeans. This store sells great crochet items for babies and children. See my interview with Dona from Onajeans.
7. SnippetFairy. This store sells a variety of crafty items including crochet monster amis. See my interview with SnippetFairy.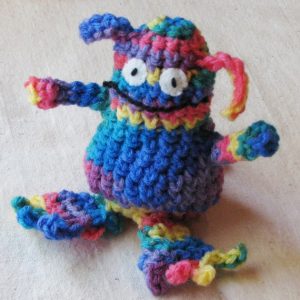 8. Annie Briggs. I recently featured this seller's crochet jacket on my site. Her store sells full-crochet clothing items as well as apparel that has been embellished or enhanced with crochet.
9. ElevenHandmade. I follow the blog for this Etsy seller because I really love the detailed crochet work! One of her tops was recently featured in one of my Monday crochet collages.
10. Kraftii1. I recently featured one of this seller's blankets here on the blog. She also sells baby items and totes.
11. Sassy Rascals. This seller makes baby shoes as well as doilies and other home decor items. I recently featured her crocheted baby Converse sneakers on the blog.
12. Passion4Handmade. This store has several types of handmade items including crochet cowls, scarves and rugs. I featured one of the rugs in a recent Etsy crochet collage.
13. Patty Davis Designs. This crochet designer makes amazingly detailed pieces for kids. I featured her crochet baby motorcycle jacket here previously and it was really popular.
14. MegansMenagerie. This store sells accessories like gloves, hats and leg warmers. I really like her scarves and featured one of her cowls on the blog previously.
15.  NooMMooN. This is one of the first Etsy sellers whose item I featured on my site. She sells a variety of different crochet products including hats and pouches. she also sells upcycled non-crochet items. I am loving these crochet rainbow wings:
16. Honeybee's Creations. I featured this seller's amigurumi peelable banana on the site awhile back. She sells other crochet foods and amis.
17. Creeplings. This store sells "a darker shade of cute" in both crochet and non-crochet. I previously featured the store's great tentacle scarf.
18. DivaInTraining. This seller makes accessories to cover you from head to foot. I previously featured her Mary Jane Slippers on the site. Some of her items, like the scarf show below, are vegan-friendly.
19. AnnerStreet. This seller makes both crochet and knit clothing. I previously featured a triangular shrug from this store. I especially love their hairpin lace items:
20. YarnTwisted. This store sells both crochet and knit accessories. I featured one of her crochet headbands on the site earlier this year. I love her spiral floral items:
21. By Clarice. This store is filled with bobble-rich accessories. We all know that I love a good bobble!
22. Amoriconi. I previously featured this seller's crochet slippers but the store also sells crochet hats, blankets and home decor items.
23. Metamorphosis Suite. This store sells a variety of whimsical items but what I love are the upcycled crocheted T-shirt yarn rugs.
24. Filo Fashion. This great fashionable Etsy store has knit and crochet clothing and accessories. I highlighted one of their shawls previously but also love their crochet shrugs.
25. LST Designs. This is another store that features both crochet and knit wearable items. I previously highlighted the beaded silver sweater from this site.
Who is your favorite Etsy seller that features crochet items?