Ideally I want to be focusing my yarn reviews on the yarn offered by indie sellers via online stores. However, there's only so much yarn in my stash and a lot of it right now is branded. As a note, if you're an indie dyer or small yarn store interested in bartering yarn in for a review and profile on the site then contact me for details!
Today's yarn review is of the Malabrigo Worsted Yarn
, which I used in the color Polar Morn. I have used Malabrigo before and loved it but I'd only used the sock yarn before. Last week I received a lovely package of beautiful stitch markers from Affordable Wonders (follow the link in the right sidebar to learn more about her) and it contained a bonus gift of this yarn. I probably would not have picked up the Malabrigo Worsted weight myself just because it seems a little bulkier than a normal worsted but I'm so glad that I got the chance to use it because now I am completely in love with it!
The Basics
This is a worsted weight , kettle dyed, pure merino wool yarn. Yummy! It contains about 210 yards (or 3.5 ounces) of yarn. That's a lot of yardage for a worsted weight yarn which is definitely really nice! It requires hand washing and flat drying and is totally worth the effort because it's a luscious yarn.
The Colorway
The color that I got was Polar Morn. It's a pretty grey with a hint of blue in the shade. It's a single color yarn (as opposed to a multi-hued or variegated yarn). However it's a kettle dyed yarn, so it's not a true solid color. The one I got was pretty solid to the eye, though. It looks like this:
Here's another photo of the color that I found online via Sunflower Designs: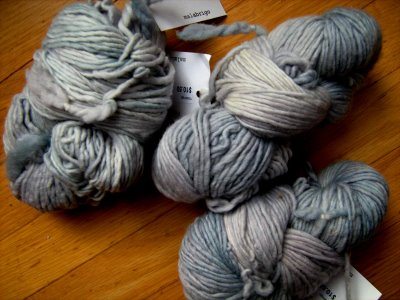 The kettle dyed solids are what the majority of the colors are for the Malabrigo Merino Worsted. There are lots of different color options. Here's a screenshot showing just a portion of them on the site:
They also offer one dozen "true solids" and more than two dozen variegated yarns in this weight/merino. I would really love to try some of the variegated options. Here's a screen shot:
The Feel of the Yarn
The number one reason that I love this yarn is because of how it feels. It is so soft and yet not at all fuzzy, a combination that I find to be completely perfect. I actually left it sitting out on my desk for a few days just so that I could pick up the ball of it and touch it throughout the day. In fact, I have decided that my desk should always have a yarn there just for touching because of this!
I enjoyed the feel of working with the yarn immensely. It's just so soft and cushy that it's a joy for the fingers as it slides through them again and again. I don't crochet in the nude but let me tell you it was tempting to do so because then that yarn would have been against my skin! (I didn't, but still, I'm just saying that if I could go skinny dipping in a swimming pool of this stuff I just might!)
The finished product of working with it is soft as well. It helps that I worked it up with a J hook in a fairly loose knit (not lacy, but not tight either) creating the right tension for the soft yarn to be luscious and cozy. It's the kind of yarn you want to wrap yourself up in. That's the reason to buy it!
How I Am Using It
I am currently working on making more convertible capelets in different styles. I worked this up in a new style that I'm trying that involves twisting the foundation chain before joining it into a round to complete the cape. I'm not quite liking the way that I did it but the problem is all in the design, not in the yarn. As I mentioned, I used a J hook because I wanted to work it up quickly and create a thick plush fabric. It worked.
I used a combination of double crossed crochet stitches and hald double crochet stitches. Here's a glimpse:
Apologies for the poor photos. It's a long story but I'm using Mac's photo booth without photo editing today. Pictures on the site should improve shortly!
I may actually take this apart and rework it using a different capelet design but a similar stitch pattern. I don't think I'll mind frogging this one at all because it'll give me an excuse to keep working with this yummy-feeling yarn. Yay!
Conclusion: I'd definitely buy this again not only to use but just to hold in my hands! :)