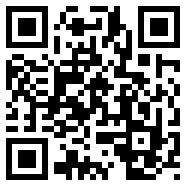 QR codes have been around for several years now but they're only just beginning to get big. A QR code is unique barcode-style artwork that can be scanned by a mobile phone. When scanned it takes you to a specific web page, deal, phone number, etc. – whatever the maker has programmed into the design. (For example, scanning the QR code at the top of this post should take you to my main website: www.kathrynvercillo.com.
You may think that this type of technology has nothing to do with the hands-on crafty world of crochet. However, technology and crafting can definitely go hand in hand today. Just check out all of the crochet and yarn apps available today. And yes, QR codes can be used by people who crochet.
Here are some of the ways that crocheters may choose to use QR codes:
Embed a QR code directly into your crochet work! Take a look at what

Juicie Lucie Creations

did. You should be able to scan the crochet piece and read a message:
Add a QR code to your product tags. You may not want to take the time to crochet up your QR codes but that doesn't mean that you can't use them. You can add the code to your product tags. When someone scans the code it may take them to your website or to information about the product. You could also add a QR code for each product on your website. I noticed this when looking at a crochet dress on the

Paradise Buying

site. This allows you to give the buyer more information without cluttering up the whole page or tag.
Add a QR code to your business cards. In the same way you can supplement the information on your business card by using a QR code to take people to additional information. This is a great way to show off specific things, like an Etsy store, that you may or may not have listed outright on your business card.
Use a QR code on your website to send people to deals or feature products. One of my favorite ways that people use QR codes is to offer deals or to take you to a feature product somewhere else on their sites. Place these on your website to keep people on your site longer – good for branding and sales!
Use the QR code to make an announcement on your blog. For example, if you check out

KRW Knitwear's sidebar

you will see a QR code announcing that the blog has gone mobile. I assume that scanning the code takes you to the page where you can download the mobile version of the site although I haven't tried scanning it. Incidentally, did you know that

Crochet Concupiscence has also gone mobile

?
Send people to your social networking sites with a QR code. You can use them instead of "follow me on Facebook" or "find me on Ravelry" if you want to try doing something different.
Just for fun … the following QR code should take you somewhere crochet related …
Do you use QR codes? Are you interested in crochet-related QR code news?