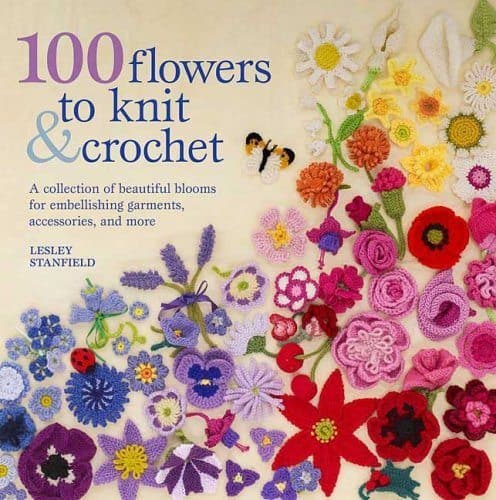 This week's crochet book review is about a book that I picked up the library by an author named Lesley Stanfield. The full title of the book is 100 Flowers to Knit & Crochet: A Collection of Beautiful Blooms for Embellishing Garments, Accessories, and More
.
About This Knit and Crochet Flower Book
This book can be used by knitters or crocheters. I don't knit at this point in my life so I only paid attention to the crochet part of the book. I made several of the projects in the book and liked how they turned out. However, I found some of the instructions in the book to be a bit difficult to follow. It seemed like there were parts missing and the phrasing of some of the instructions was confusing in my opinion. For that reason, I wouldn't recommend this book to beginning crochet artists. The book itself says it's good for beginners and even children. However, I found that you have to have a good sense of what's going right and wrong to make these patterns work out properly. That said, there are some really cool flowers, leaves and butterflies that you can make using this book.
Update: I originally worked with this book when I was really new to crochet. As an advanced crocheter, I've looked back and find it fairly simple to work all of the crochet patterns that I've tried. So I think it's true that it's not necessarily ideal for beginners but if you're a determined beginner (as opposed to someone like me who tends to give up easily when it's not coming quickly) then the crochet projects could be worked.
More About This Crochet Flower Book
The book begins with a basic introduction to the book itself as well as to the materials and techniques used in the book. This is a fairly common intro for a crochet book. This section is followed by a directory of flowers. This is cool because it shows all of the projects in the book laid out in beautiful color photographs, loosely grouped together by color. It says the name of the flower and the page its instructions are on. The only downside is that the crochet and knitted flowers are bunched together so you may see a flower you like only to find out that it's a knitted flower and not one that you can crochet. That said, the visual display is beautiful.
The instructions are next. It starts with knitting instructions, so I skipped that section. The crochet section begins with "basic designs" and then has intermediate and advanced designs. The format of each set of instructions is:
Name of flower
Page where you can find the flower in the directory
Yarn type and color used for the project
Image of the flower
"Method". This is the written instructions round-by-round.
Image showing the pattern stitches. I never use these because they just confuse me. I learn best from written directions. However I'm glad to see this is included for people who learn better with visual stitch directions.
After this there are ten little projects at the end of the book that you can do. They are basic projects – adding flower appliqués on to items for example.
Crochet Roses Patterns
My two favorite crochet flowers in the book were both roses: The Ruffled Rose and the Irish Rose. There are several other roses crochet patterns in the book as well. These are all great for different types of projects, creating a crochet garden or just adding a flower on to some other item. In addition to roses, there are of course many other crochet flower patterns, and the book also has patterns food fruits, veggies, leaves and garden critters. You can explore all of the knit and crochet flower patterns on Ravelry.
Other Crochet Flower Pattern Books
You might also like 100 Hats to Knit and Crochet. And here are four more books with both knit and crochet patterns.