There are so many different items that you can use to crochet other than the traditional yarn and thread. Alternative material crochet includes crocheting with plastic bag yarn, t-shirt yarn, jute twine and more. Here are 19 terrific crochet projects that showcase the beauty and versatility of alternative material crochet.
Free crochet pattern for jute twine flower pot by @annabooshouse; see more jute crochet here
Jute bowl free crochet pattern from Crochet In Color; a great addition to any room in your house!
Rope crochet basket free pattern from @EstherMChandler; here's a way to turn rope into a basket that can be used to store yarn and all sorts of other things at home
T-shirt yarn crochet basket free pattern via @molliemakes article on 10 ways to use t-shirt yarn. T-shirt yarn is really versatile and generally soft and cozy to work with. It's a great thing to try if you've never done it before.
T-shirt yarn crochet heart basket free pattern @creativejmom – another option for using t-shirt yarn if you discover that you really like working with it
How to upcycle thick wire coat hangers with t-shirt yarn crochet from Lazy Daisy Jones. Nice on your clothes and cute in your closet!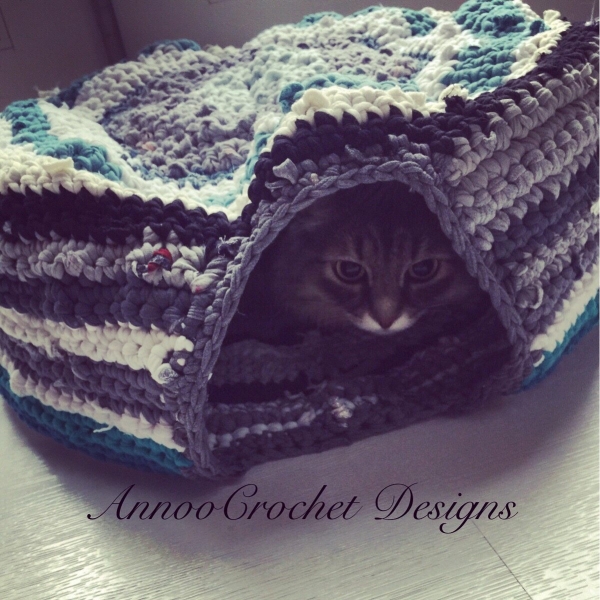 T-shirt yarn crochet pet bed from Annoo's Crochet World; see another option here. How could your four-legged friend not love the coziness of this kind of creation?!
Easy free crochet t-shirt yarn bracelet pattern from @bhookedcrochet. This works up super quickly and makes a great project for teaching groups the basics of how to crochet.
Glass bauble free crochet necklace pattern @fiberflux – a really beautiful way to use beads in crochet!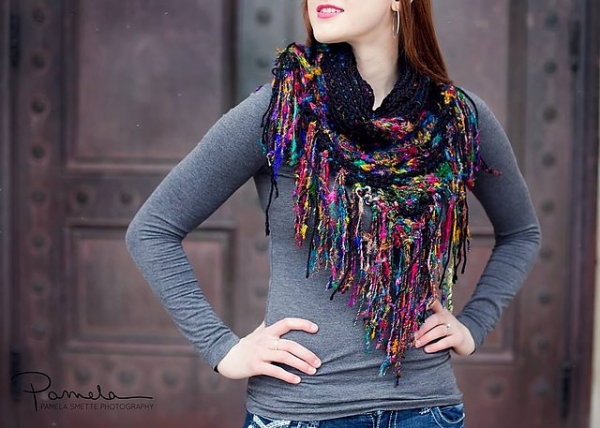 Silk sari yarn crochet scarf pattern for sale from @jbhcrochet; this type of recycled fabric yarn is beautiful and there aren't enough great patterns out there like this one to show you how to use it!
Akua shares: "I installed my first mega flower, made out of polypropylene rope. I heard the kids squeal and saw them pause,  look and talk about it. I feel joy."
Plarn crochet gift bag with flower free pattern from Plastic Bag Crafts
How to Crochet a Mesh Potato Sack into a Kitchen Scrubbie @creativejmom; what a great idea for using those potato sacks!!!
@crochetkween did a terrific crochet interview with Turkish crafting mother/ daughter team Sebahat and Aysegul from Irregular Expressions who do a lot of beaded crochet jewelry work
Japanese knot plarn tote bag free crochet pattern from My Recycled Bags
Plarn crochet purse pattern free also from My Recycled Bags, which is a really great resource for learning how to upcycle plastic bags with crochet
In fact, it's not only plastic bags that can be used in crochet. All plastic packaging can be used! Learn How to Cut Plastic Packaging into Plarn via My Recycled Bags
The Something in the Water crochet art project was on display in Ojai, CA in May and is heading to Glendale, CA this fall. The artist writes, "All works in the exhibition plumbed the depths of water issues amplifying each other in powerful ways. I think this was definitely the most advantageous installation of the piece to date. So many people were intrigued, curious, emotional, and impressed with everyone's contributions. All contributors were named individually in the wall text." I'm happy that I could be one of those contributors.
One Plastic Bag: Isatou Ceesay and the Recycling Women of the Gambia
 by Miranda Paul illustrated by Elizabeth Zunon. "This book is the true story of a woman who set out to transform her African village by teaching herself and others to crochet purses from the plastic bags that litter the ground everywhere."
You might also like these mixed media upcycled crochet ideas!