There are many different types of shapes that you can incorporate into your crochet, but the simple stripe is the most classic example and remains of the staples of crochet design. These seventeen crochet patterns all play with color in stripes to give a powerful impact to what is often a simple design.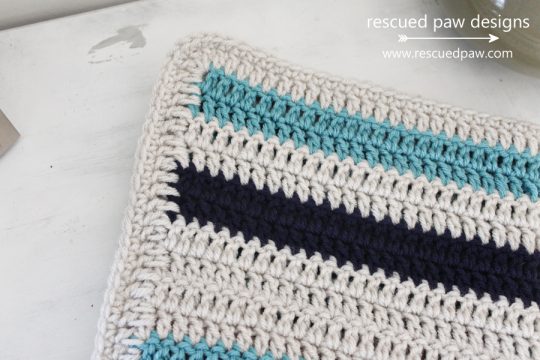 Simple striped baby boy blanket free crochet pattern from Rescued Paw. This crochet blanket pattern is really super simple but there are stripes made in different combinations of row numbers to give you a crochet baby blanket that packs a big design punch. You can take a basic crochet pattern like this and tweak the colors to get unique versions of your very own.
Chunky striped bag free crochet pattern designed by Moogly. The color choices here are super smart and are fun to work with. This is a great accessory that makes a statement thanks to those stripes.
Rock Star Mitts free crochet pattern by Jessie At Home. The stripes here decorate the hands. Jessie has also created a Rock Star Hat and Scarf crochet pattern set to match these mitts; they showcase a more subtle transition between colors.
Crochet summer beanie free pattern from @crochet_stuff. The rows of peach yarn separate the different bold colors that make up the stripes of this pretty crochet hat. It's designed as a summer hat but really works for any season, especially if you switch up the color palette.
Convertible rainbow cowl / hat. I know that I've shown this crochet pattern (for sale from ACCROchet) several times but that's because I just really love everything about it, including the chunky rainbow striping that is the predominant feature of the design.
Colorful crochet pencil case free pattern from Fiber Flux. As you can see, a rainbow palette works as stripes for projects that are both big and small!
Frilly striped crochet pillow cover free pattern from Lazy Hobbyhopper. This pretty pattern is a great striped option and although it's used to make a pillow case here, I also think that the same striped stitch pattern would work well as a full blanket design.
Striped hot air balloon free crochet appliqué pattern from Crochet Spot. More rainbow stripes.
Striped baby set patterns available in both knit and crochet versions. Both types of patterns are for sale from Melody's Makings. If you can do both crafts, you might want to make one piece in crochet and the other in knit for a unique set.
Striped crochet hat free pattern from String Theory Crochet. This kind of crochet hat is well-suited to striping in team spirit colors.
Striped jelly jar cover free crochet pattern. Make anything at all prettier when you wrap it in a colorful, striped crochet cozy. This is a free pattern from Fiber Fluc.
Textured waves scarf free crochet pattern from Jessie At Home. The design of this crochet pattern makes the stripes look wavy and appear to be worked in short rows even though they actually aren't.
Self-striping cowl crochet pattern for sale from Gleeful Things – done half in vertical stripes and half in horizontal stripes for a two-in-one look. What a great yarn used here!
Shawl free crochet pattern from Simply Collective Crochet, another option for self-striping yarn. Let the yarn do the work of the stripes for you!
Classic Striped Baby Pullover Sweater (5 Sizes). This crochet pattern is for sale over in the Crochet Spot pattern store.
Stripes and Blocks scarf free crochet pattern from Tamara of Moogly. This is a unisex crochet scarf pattern designed to be really warm and cozy.
Sea Glass crochet afghan free pattern from Petals to Picots. Simple stitches, easy color changes and a lovely striping idea combine to make a pretty perfect crochet blanket.