Cherry Blossom Season has been my favorite time of year ever since I moved to San Francisco eight years ago. There was a cherry blossom tree beneath my first apartment window in North Beach and then three years ago I moved to a new spot near Japantown where the cherry blossom trees line the streets. The flowers only bloom for a month or two at the start of each year and the blooms are basically gone for the year now but I'm preserving my love of them with today's roundup of cherry blossom inspired crochet patterns.
1. Cherry Blossom Crochet Necklace
Free crochet pattern for cherry blossom necklace from Crochet Today!
2. Cherry Blossom Tree Crochet Cushion Cover
Cherry blossom tree cushion cover pattern by Mandy Tempest Designs for sale through Ravelry
3. Easy Cherry Blossom Crochet Flowers
Cherry Blossom Crochet Flower Pattern by @repeatcrafterme
4. Cherry Blossom Tree Crochet Pattern
Free crochet cherry blossom tree pattern
5. Crochet Cherry Blossom Hat
Crochet cherry blossom hat pattern for sale through Ravelry from KaKa's and YaYa's Blog
6. Crochet Jar Cozy Pattern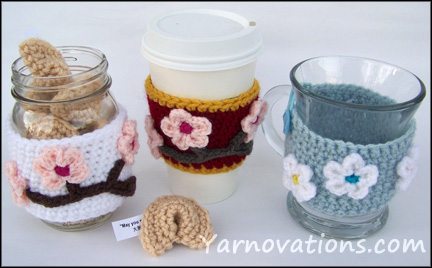 Free crochet jar cozy or cup cozy cherry blossom pattern from Yarnovations
7. Crochet Cherry Blossom Scarf
Crochet cherry blossom scarf pattern for sale through Ravelry by Mindy Milliron
8. Cherry Blossom Gift Box
Crochet cherry blossom gift box pattern free through Ravelry
9. Cherry Blossom Tote Bag
Free Ravelry download for cherry blossom crochet tote bag by Donna Yates
10. Crochet Cell Phone Cozy
Cherry blossom cell phone cozy free crochet pattern
11. Cherry Blossom Crochet Flowers
These crochet cherry blossom flowers were made by miyayo using the crochet pattern for sale on Ravelry by Yoko Johnston who donated/donates proceeds to the Japanese earthquake survivors.
12. Cherry Blossom Crochet Headband
This crochet headband is one of six patterns for sale in the Cherry Blossom collection by Lisa Jelle
13. Crochet Cherry Blossom Flower
Free crochet cherry blossom flower pattern from King Soleil
14. Crochet Cherry Blossom Blanket
Crochet cherry blossom baby blanket tutorial via Craftster
15. Crochet Cherry Blossom Shawl
Marly Bird's crochet shawl pattern was inspired by cherry blossoms; find the pattern in the March/April 2012 Crochet Today! issue