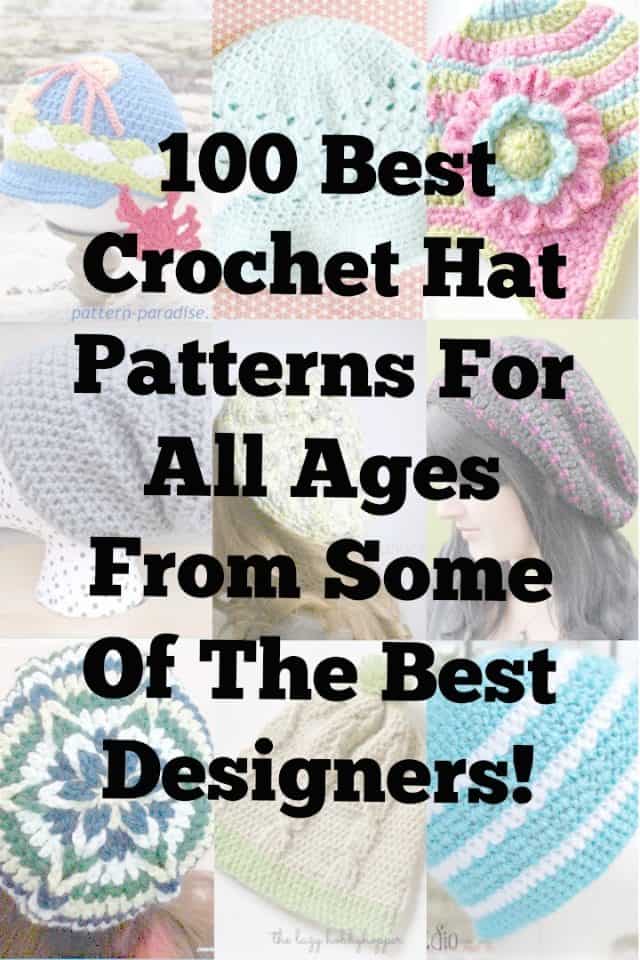 Crochet hat patterns are perfect for so many different projects. Crochet hats for men, women and children of all ages can be made quickly as gifts, last-minute accessories or perfect charity donations. The 100+ patterns here, many of which are free crochet hat patterns, are varied in style, technique, design and the skill level required by the crafter. There should be plenty here to keep you busy crocheting hats all year long!
Free Beginner Crochet Hat Patterns
The free crochet hat patterns in this section all use basic crochet stitches that are easy enough for most beginners. The designs are all basic crochet beanie hats. You'll find slouch hats and others styles of crochet hats in the other sections below.
This is a really easy free crochet hat pattern that uses only single and double crochet stitches. It includes a super simple appliqué that is just a crochet circle, adorned with a decorative button. This pattern is by Rescued Paw Designs.
This free crochet beanie hat pattern (also by Rescued Paw Designs) is made with basic crochet stitches so that beginners can comfortably make it. It uses single, double and treble crochet stitches. This crochet hat is worked with a large size N crochet hook and bulky yarn so it can be whipped up very quickly. It is a nice warm hat that is sized for teens / women.
This free crochet hat pattern by Elk Studio uses a crochet stitch pattern called Herringbone DC. It may sound intimidating at first but it's just a variation on the basic double crochet stitch. She links to a video tutorial by Moogly that can help you figure it out even if you're a beginner crocheter. A few simple color changes create outstanding stripes.
This free crochet pom hat pattern looks complicated but it's actually super easy. The only thing that isn't basic is that you work in the back loop only (BLO) at times. The pattern links to a Moogly video tutorial to teach you how to do that. The pom on top adds texture to the design but most of the work is done by the smart yarn choice. This crochet pattern is by Tangled Happy and is intended for teen / adult hats.
Crochet Hat Patterns with Fun Stitches
The crochet hat patterns in this section go beyond just the basic stitches and incorporate fun stitches such as puff stitches. They are for slightly more advanced crocheters although many of them are relatively easy designs.
This adorable free crochet hat pattern from B.hooked Crochet uses the beautiful textured puff stitch to create a warm, cozy sweater for the head. The designer has included a video tutorial for the puff stitch for those that may need more information about how it is made. The brim of the hat is made with single crochet stitches to keep it close to the head. This crochet hat can be made in varied sizes from child to adult.
This neon crochet hat free pattern uses post stitches for rich texture. What's really unique is that it uses both double crochet posts and half double crochet posts. You rarely see the latter in patterns and it makes for a nice touch. This pattern is offered as a free Ravelry download by Zoe Deterding.
This shell stitch sun hat by Daisy Cottage Designs is actually really easy to make. It uses basic stitches in such a way as to create crochet shells. The brim of the hat is worked by increasing in rounds.
Cre8tion Crochet was inspired by hipster beanies to create this free crochet hat pattern. The fun stitch worked in this one is the crossed treble crochet.
This free crochet hat pattern by Cats Rockin Crochet uses a stitch technique that I'd never even heard of beofre – the back double crochet. There is a video tutorial to teach you this stitch, which sounds complicated at first but is really simple. This is a reversible crochet hat pattern that can look very different depending on which way you wear it!
This recycled t-shirt yarn crochet hat pattern uses shell stitches and v-stitch to create an interesting pattern on a wide brim. The pattern, by My Recycled Bags, links to instructions for making t-shirt yarn if it's something new for you.
Crochet cables make exquisite designs as you can see from this cable crochet hat pattern that has a matching scarf pattern from the same designer (My Rose Valley). She sells both patterns in her Etsy shop and offers them together at a discount. The pattern, which is available in both US and UK crochet terms, uses a simplified version of the cable stitch that is a great introduction to crochet cables.
Another great crochet hat that uses cables is the Crochet Cable Stitch Hat free pattern by The Lazy Hobbyhopper. It uses treble crochet post stitches to create long, three-dimensional cables that become vertical lines on the hat. Using a different color for the brim of the hat adds a nice pop to the design but it's really the cables that stand out as the key feature.
Crochet Hat Patterns for Men
Some of the basic crochet hat patterns are certainly unisex designs but it is always nice to have a section of crochet hat patterns for men that you can easily jump to when the need to make such a hat arises. All of these designs can be adapted for men or women but are specifically suitable to menswear.
This cotton crochet beanie hat breathes because of the yarn choice so it's a hat that a guy can wear even in warmer weather.
This thick front post crochet hat pattern is a free design offered by Cindy from My Recycled Bags. Front post double crochet stitches are used in combination with half double crochet for a very textured hat. This crochet hat is worked in worsted weight yarn with a size H crochet hook so it's a great mid-range project that most people will have yarn on hand for. Cindy offers tips for adapting the design for women and smaller heads.
This crochet beanie hat pattern for men is by ELK Studio. It uses basic crochet stitches and is considered a beginner hat pattern. This hat is worked with a lightweight yarn so even though it is cozy, it can be worn in warmer months. ELK Studio has another hat called the Just Groovin' Crochet Beanie that is also a great unisex design; it uses front post stitches for a more complex, textured design.
Crochet Slouch Hat Patterns
Many people like the style of the crochet slouch hat. There are quite a few different ways to make a slouch hat, incorporating varied stitches and using different types of yarn.
The Cottontail Slouch is a free crochet slouch hat pattern designed by Fiber Flux. It works up really quickly with just a half skein of yarn and a large size K crochet hook. It is worked primarily in half double crochet stitches with some post stitches in the beginning rounds. This slouch hat crochet pattern includes a video tutorial along with written instructions.
Gleeful Things has designed this crochet slouch hat pattern with options so that you can make it just a little bit slouchy or extra slouchy depending on your style preferences. She also offers different color suggestions. The design is based on another one of her crochet hat patterns, which itself can be made a little slouchy or not at all slouchy. She sells both crochet hat patterns in her Ravelry store.
This crochet slouch hat free pattern by Little Monkeys Crochet is so chic and stylish! It uses a worsted weight yarn and two crochet hooks (sizes I and K) and requires only knowledge of very basic crochet stitches. It has a decorative button detail. This free crochet slouch hat pattern also comes with a matching cowl pattern.
A Very Good Hat by Moogly is a striped crochet slouch hat with an optional pom on top. It comes with instructions for six sizes from baby through adult.
Cats Rockin Crochet calls this crochet slouch hat "The Teaser", explaining: "I felt like the stitch pattern was teasing me, just as I had established 2 rows of the pattern, I felt like the pattern was moving in one direction, then once I completed the next 2 rows of the pattern, it headed in the opposite direction and was giving an amazing and subtle decorative stitch pattern, it even feels amazing!"
Courtney Deley has designed this basic crochet slouchy hat and offers it as a free Ravelry download. The combination of vertical ribbing and horizontal ribbing creates a cozy fit with great texture. Shown in the colors here it looks like it's been inspired by yummy ice cream!
This crochet slouch hat free pattern from Crochet n Crafts is super unique because it is designed with long chains that make it a very open design. This is a great accessory for warmer months of the year.
What you see here may not look like a crochet slouch hat. That's because this smart hat design from Jessie At Home comes in two styles: a regular hat and a slouch hat version. Both of the designs use the unique Jacob's Ladder crochet stitch to create a starburst patter at the peak of the hat. The crochet beanie hat pattern and crochet slouch hat pattern are both free crochet hat patterns written for four sizes (two child, two adult) and worked up with a J size crochet hook.
The Parisian Sweetheart Slouch Hat by My Hobby is Crochet is a toddler-sized girls crochet hat free pattern. There are more crochet hat patterns below just for kids but this one stands out as a key slouchy hat design for little ones.
Crochet Hats for Babies and Children
Many of the crochet hat patterns throughout this post come in sizes that include children's sizes. The crochet hats in this particular section are written for babies and children only. They include crochet animal hats, which are always a top choice for kids.
This free crochet baby hat pattern from Alli Crafts comes in five different sizes from preemie through one year. It is designed with basic crochet stitches to create a combination of thick and thin stripes. You could make many of them in different color combinations! This one has a crochet shamrock for St. Patrick's day; instructions are available for it but it's an optional addition. You could also adorn this baby crochet hat with other appliqués. Alli Crafts has a number of terrific baby crochet hat patterns including her heart hat, earflap hat and vertical stripes beanie.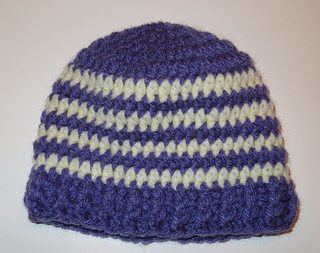 My Recycled Bags created this ribbed baby hat free crochet pattern for raising awareness for PURPLE Crying to prevent shaken baby syndrome. This cute and easy crochet hat pattern can be worked in stripes or in solid colors. There are pattern instructions for preemie, newborn and baby.
Cat's Rockin Crochet has named this free baby hat crochet pattern "Baby Kisses" because of the x's that are made across the design. This crochet pattern uses post stitches for warmth and squishiness.
We see a lot of crochet hats these days but we don't see the classic baby bonnet as much as we used to. It's such a great design – tying conveniently on to baby so it doesn't fall off and get lost. Plus it's got great vintage charm! This baby bonnet free crochet pattern is from Mamma That Makes.
Daisy Cottage Designs made this adorable crochet baby chick hat. It is designed for newborns and is perfect for baby's first Easter photos! This one is a fast crochet pattern that only needs a little extra time to create the face with buttons and yarn.
What is really cool about this free crochet hat pattern is that it's just one version of the same basic design. Pattern Paradise has taken the colors and stitches of the hat and changed it in different ways – with appliqués and a visor on this one, for example. It's a really cute, versatile design available in multiple sizes starting at newborn.
This free crochet child's hat pattern is intended for kids that are about preschool age. It is designed by Olga Poltava of Lacy Crochet. It is an advanced crochet hat pattern worked with lightweight yarn and post stitches. The structure of the post stitches creates a very unique textured design. This designer also has a great crochet toddler beanie hat that uses a block pattern to create a geometrical design that works for boys or girls.
This free crochet hat pattern is designed for children's aged approximately 3-5. It is a spring crochet pattern with two flower appliqués. This kids crochet hat is worked in basic stitches but it has a star stitch border that really gives a unique pop to the design, especially worked in colorful variegated yarn.
This beautiful spring crochet hat is designed in two sizes for smaller kids and bigger ones. It is an earflap hat pattern so it's great for spring days that are still a bit chilly.
Fiber Flux designed this free crochet kids hat pattern to work up quickly and keep kids extra warm. The color changes are created by the yarn itself, which is a thick yarn that crochets up with a size N hook. The pom pom is a nice touch to give the hat a winter feeling.
This crochet puff stitch hat pattern has instructions for a baby hat and one for kids. It comes from Rescued Paw Designs who assures beginners that the puff stitch is easy to learn and that a hat can be worked up in a day.
The crochet baby lamb hat free pattern from B.Hooked Crochet makes every baby even more adorable. It can be used as a costume, a baby photo prop or just to keep baby's head warm and cute at the same time. It uses basic crochet stitches and a thick yarn, working up really quickly. A second yarn is used to give really cute detail to the inside of those lamb ears.
Mama In a Stitch made this crochet giraffe hat free pattern for her own little girl. It is worked using the crochet seed stitch. The face is added with yarn so it's safe for all ages, although it is specifically designed for ages 18 months – 3 years.
Dress baby up for St. Patrick's Day with this little leprechaun crochet top hat. Worked in other colors this could also be a very cute photo prop for baby's pictures taken at any time of the year.
This Spongebob Square Pants crochet hat free pattern actually comes with sizing information for all ages, including adults. Repeat Crafter Me has used single and double crochet stitches to create a square earflap hat. All of the detail comes from the color choices and the appliqués which are aided on with crochet and embroidery. This fabulous crochet designer has made lots of other great crochet baby hats include one that looks like a cupcake!
Vintage Crochet Hat Patterns
The crochet hat patterns in this section are a combination of vintage patterns and patterns that are contemporary but inspired by vintage millinery fashion. Cloche hats
This 1920s crochet cloche hat free pattern was designed by Hopeful Honey. It is a contemporary design inspired by one of the most fashionable periods in history. This free crochet pattern uses a unique crochet stitch called the camel stitch in both double and half double crochet. The designer includes a camel stitch video tutorial for those unfamiliar with this stitch. This cloche hat also includes a free crochet flower pattern that is worked by creating two flowers and then attaching them together. Hopeful Honey is an amazing resource for vintage-inspired crochet hats. A few other great ones she's designed include the 1920's Jewel Flapper Hat and the Strawberry Eclair Cloche Hat.
The beret hat has a long history in a variety of cultures. This crochet beret free pattern from B.hooked Crochet has a beautiful starburst design made from a combination of stitches including post stitches and crochet clusters. This crochet hat pattern requires blocking for the best fit. It comes with written instructions as well as video.
This is another style of free crochet beret pattern designed by Cats Rockin Crochet. It has a terrific subtle stitch pattern that can look wildly different depending on your yarn choices; the designer shares some different examples to inspire you. This pattern comes with a free matching crochet pattern for a neck warmer.
Twinkie Chan has combined with style of the beret with the style of the fascinator in this mini beret free crochet pattern. That's two pieces of history in one!
The fedora is another hat with a lot of interesting history. It was a women's hat first, back in the nineteenth century, and then it went through varied periods of use by both genders. This crochet fedora hat free pattern by Crochet Kitten has a feminine flower on the side but it comes in sizes from preemie through adult male.
And More Crochet Hat Patterns
This stunning summer hat crochet pattern sold by ELK Studio is one of a line of crochet hats inspired by Southern styles. This one uses cotton yarn for breathability. Millinery wire is used to reinforce the shape of the hat's brim.
This Star Wars crochet hat free pattern was designed by Dragonbird Creations who says, "Sometimes, I find that my life calls me to be a Tusken Raider".
Note: This page is in the process of being updated to include all 100+ crochet hat patterns in one place. At the current time, you can find the rest of the patterns here: 50 Fabulous and Fun Crochet Hat Patterns.